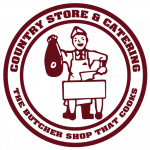 When you're planning your next party, graduation, wedding, open house, anniversary, company picnic, large corporate event, auction or any type of event where you want good food for your quests, you can count on The Country Store & Catering. We have been voted Best Caterer, Best B.B.Q. Place and also Best B.B.Q. Baby Back Ribs of DeKalb County for the past 2 years.
We're able to keep cost down because we age and cut all our own meat (including our tasty seasoned butterfly pork chops). We prepare all of our own fresh salads, homemade soups, and we make our own sausage and desserts.
If you need tables and tents, we can furnish them at a additional charge.
We can have a mobile concession stand available for auctions, tournaments, town events, etc.
We can also help you plan an elegant dinner complete with crystal ware, linens, and champagne fountain. We'll even cut and serve the cake if you would like.
No Party is too large or too small. We can take care of any size group from 50-1,500…..no problem! We'll serve our famous seasoned pork chops, BBQ chicken, BBQ ribs, boneless butterfly pork chops, or just plain bratwurst.
We will set-up, serve and clean up … or if you prefer, you can pick it up and serve yourself. We even provide disposable take home containers and silverware.
We encourage you to visit our sycamore location. We are an actual butcher shop with a complete line of meats, lunch meats, cheese, salads, etc. We also serve hot carry out lunches such as: seasoned butterfly pork chop sandwiches, Italian Beef, Rib Eye Steak Sandwiches, cold deli sandwiches, and hot homemade soups. From the unique taco soup and baked potatoes soup to our full line of meats you will find something for every taste bud to enjoy.
Click on a picture below to see full size pictures.